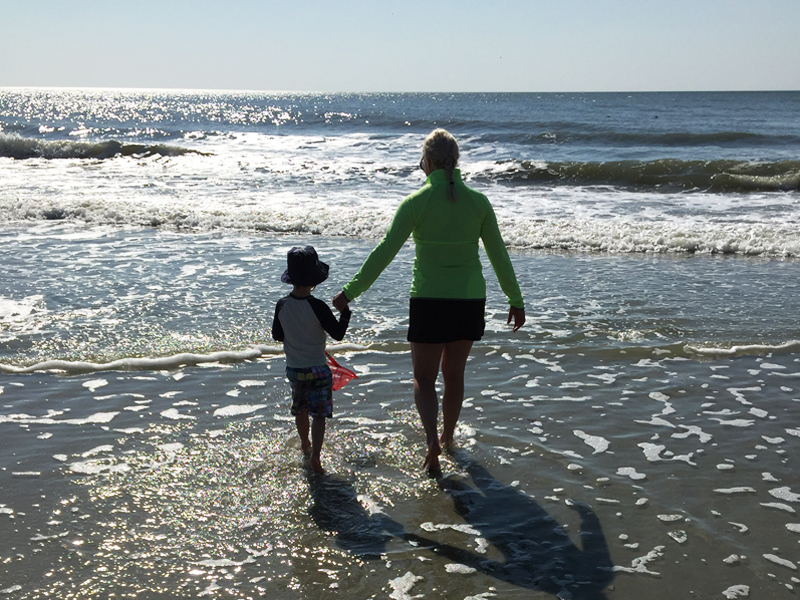 Kym
Kym Riley RYT, Fitness & Lifestyle Professional is the owner of Mindful Movements Studio in Belleville, ON. She encourages and supports all Mindful Movements' clients with their Yoga, Fitness & Lifestyle goals. She understands that life can be busy and challenging and balance is key to optimal health.
If you need guidance and/or support Kym is always ready to assist you.
more about Kym...
Kym cultivated her love of movement and body discipline at an early age. Years of participating in competitive gymnastics, fitness camps and a variety of individual and team sports inspired her direction for the future.
After acquiring a BSSc Degree from the University of Ottawa with a concentration in recreation and leisure studies, Kym began her career in the health and fitness industry.
Since 2004, Kym has been the owner and manager of Mindful Movements in Belleville. Kym offers private, semi private and small group classes at the studio, catering to all ages and fitness levels. Kym holds certifications in pilates, personal training, post rehab conditioning, and has her level 2 coaching certificate. She is a registered yoga teacher and a certified Thai yoga massage therapist.
Her classes have a logical flow to them, building her students knowledge and confidence so they always leave feeling empowered. Mindfulness is also a strong theme in any one of her classes and she always challenges her clients to reach their full potential. Her greatest reward is to see her clients succeed. Kym welcomes you to the studio and on your destination to wellness.
Are looking for the perfect trainer to help you with your individual needs? If so, feel free to contact me and I will be happy to connect you with the right person at Mindful Movements in the County.
Namaste,
Kym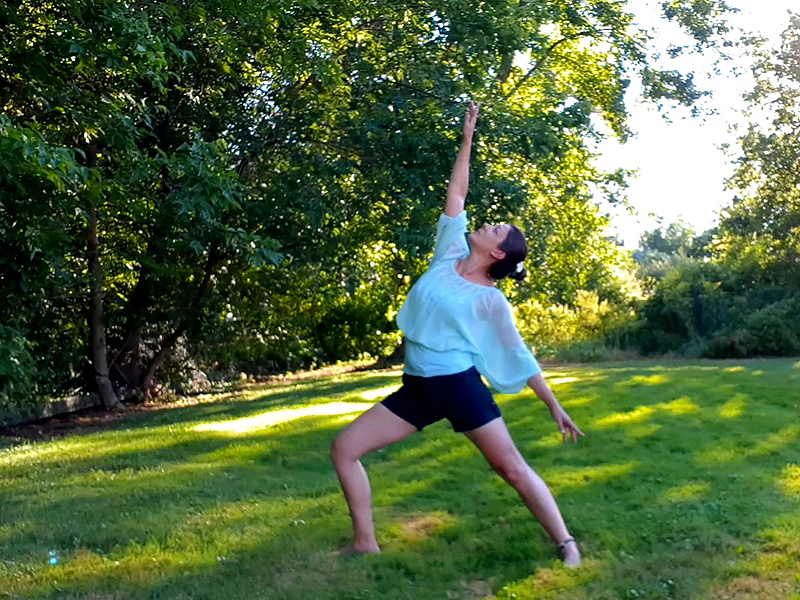 Nicole
Fitness and health have always played a role in Nicole's life growing up. She discovered her passion for resistance training in high school and instantly knew she wanted to be a personal trainer/group instructor. Nicole is a fitness and health promotion graduate from Loyalist College.
She also has a background in relaxation massage and aromatherapy.
more about Nicole...
With her 10+ years as a fitness professional, Nicole has had the pleasure of working with competitive dancers (individual and teams), sports athletes (for individual performance enhancing), sports teams (conditioning and fascia release), pre and post natal heath, as well as clients suffering with chronic pain due to injury/other health conditions (Fibromyalgia). Nicole brings a friendly smile and positive energy to every session. Your success is her #1 goal.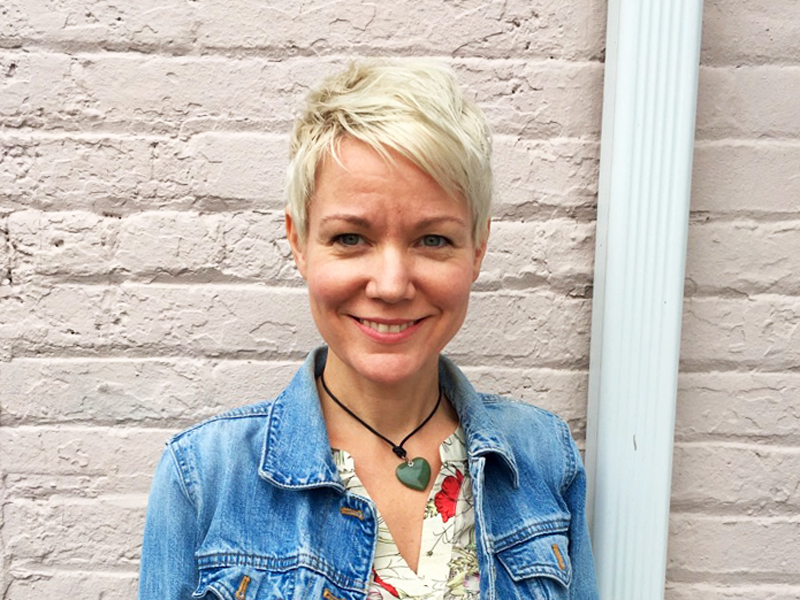 Robyn
Meet Robyn! Mom, stylist, salon owner, environmental technologist, and Certified Yoga Instructor! Being a member of the Mindful Movements' team is both exciting and challenging. It is inspiring to grow, learn and teach among such authentic Yogis and trainers.
I love being part of the Mindful Movements' community and teaching as well as interacting with all the students.
more about Robyn...
I have been practicing along with them for so many years. It's lovely to be able to do so.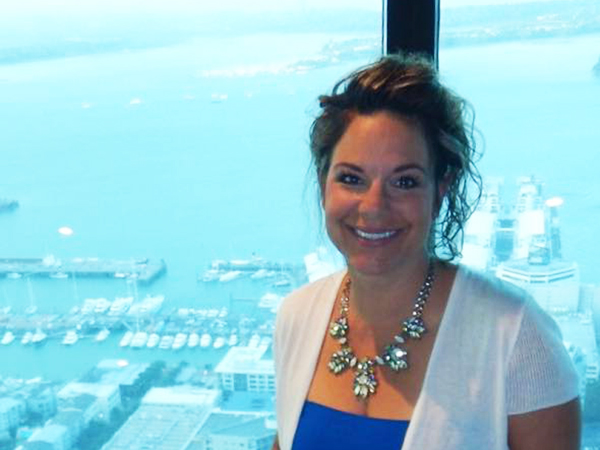 Lisa
I believe yoga can calm the mind and the soul. Yoga creates a safe space to which students can connect with their inner breath and increase body awareness, while enjoying exercise and learning skills to achieve a healthy "off the mat" experience.
more about Lisa...
I am a RYT200 and Certified Trauma Informed Yoga Teacher and a personal trainer, specializing in Senior Fitness. I hold a degree in Psychology,  trainer certifications in PTSD, Vicarious Trauma, Compassion Fatigue and Workplace Burnout; assisting those who work in helping professions that are exposed to secondary trauma. I have extensive professional experience with primary trauma; domestic violence, sexual assault, grief and loss, to which individual yoga classes be an option for those wishing private practice.
Over the last 29 years, I have worked in social services fields, as an advocate, educator and front line service provider, assisting victims of crime and tragic circumstance. Providing crisis support, immediate intervention and teaching people has always been my passion. It is my sincere desire to take those skills and transform them to a practice that assists people in high stress life styles, helping them calm the mind.
Mindful Movements studio has given me the opportunity to explore my passion for helping people through the modality of yoga. My classes will use yoga, mediation, visualization and other wellness tools to empower people to see that they have a choice in how they react to the external pressures they come against.
Angela
Hi, I'm Angela!
After having my first child 14 years ago I joined the Mindful Movements' Community and fell in love with healthy living. It made such an impact on my life that I knew I needed to share the joy with others.
more about Angela...
My focus is on creating lasting change through building new habits that fit your lifestyle. I am now a Certified Nutritional Coach and Certified CanFit Personal Trainer.
I believe Transformation is not in the future, it's in the now! It's making that one small decision to try something new and do something differently everyday. It's all of those small choices that make for lasting change. I am excited to meet with you and joining you on your journey!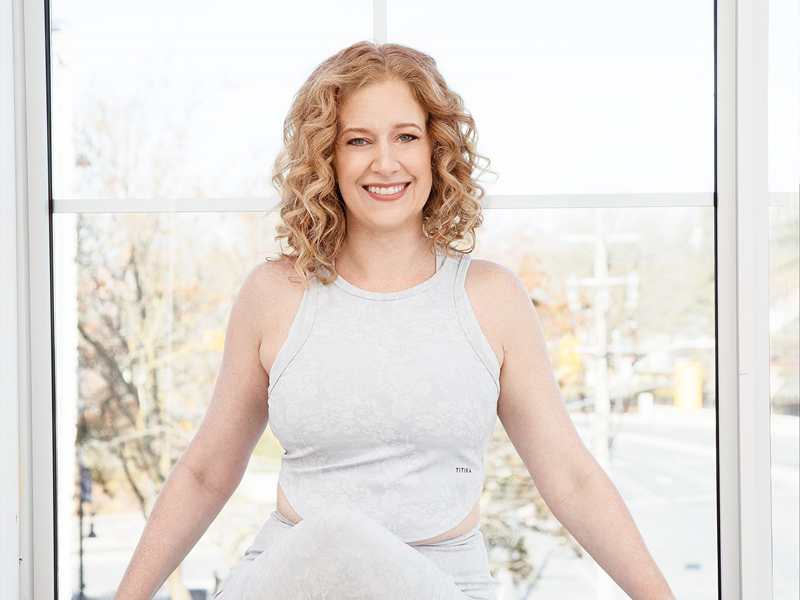 Rebecca
Rebecca is a Registered Yoga Teacher (RYT) offering hatha, yin, restorative and trauma-informed yoga with a focus on breath work and meditation practices. Interwoven in Rebecca's life for over twenty years, yoga helped her through injuries, pre-natal care, post-natal care and everyday life.
more about Rebecca...
An avid supporter of self-care practices, Rebecca offers large and small group classes or help creating personalized yoga plan with her clients.
Moving to Prince Edward County six years ago allowed Rebecca to focus on her eclectic yoga journey leading to teaching, mentoring that helps others develop positive mindsets to self-care. As a Registered Psychotherapist (Qualifying), Rebecca views yoga as part of a holistic and dynamic healing practice that is accessible to anyone. When Rebecca isn't in the office or studio, she is a taxi driver to three teens, avid traveller, sometimes writer and complete supporter of living one's most creative life.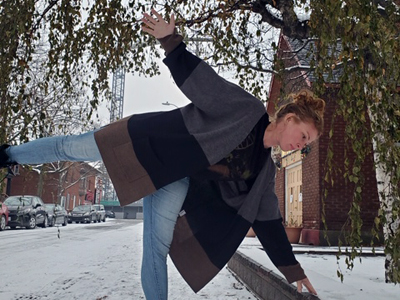 Angie
Angie is a recent graduate of our Mindful Movements Yoga Teacher Training Program. She is honoured to be a new member of the Mindful Movements' team and to share a practice she is so passionate about.
Having a Human Services diploma (St. Lawrence College), Yoga perfectly compliments her desire to serve others.
more about Angie...
Angie travelled Canada playing competitive rugby and soccer in her youth. As a young adult, she facilitated climbing and team building activities as a high ropes instructor. Empowering youth to pursue new experiences, and develop self confidence through trust and 'Challenge by choice' motivation.
As a mother of 2 young busy boys, she believes self care is imperative and invaluable to model for her family and community. Gardening, biking, snowboarding, fishing and exploring are among some of her favourite activities.
"Every individual should inject play into their life and prioritize it. Make time for it, because it will infuse you with vitality and sustain you through life's challenges. Yoga is a universal system of self care for Every Body! Only requirements; your intention and breath. That's a beautiful thing. Looking forward to connecting with you and sharing a practice that creates awareness, space and release".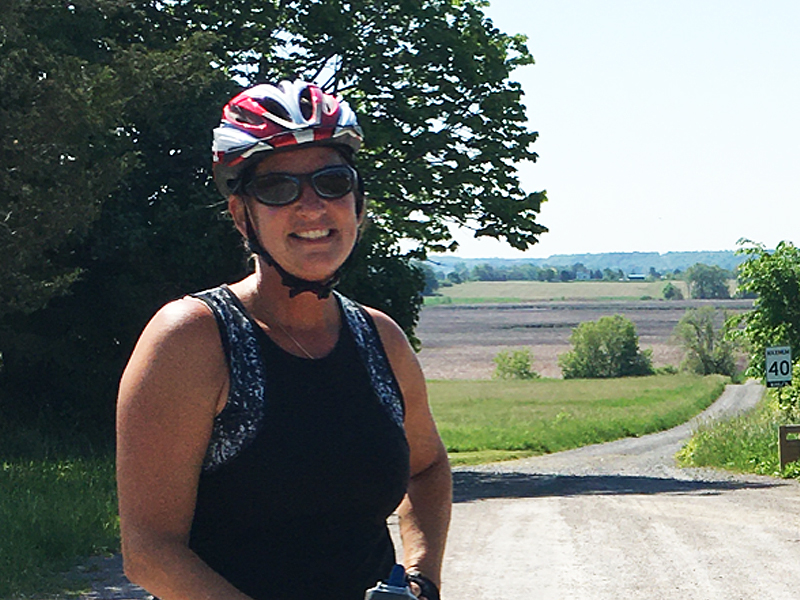 Sarah
Sarah is a recent graduate of our Mindful Movements teacher training program. She is very excited to be joining such a fantastic group of instructors at such a beautiful studio. Sarah started her yoga journey over 28 years ago while living in New Zealand. It has been woven through her life while raising two children and working as a high school teacher.
more about Sarah...
"Over the last few years, yoga has become a more permanent part of my daily life. I appreciate and value all of yoga's benefits to one's mind, spirit, and body. As I enter my new adventure of retirement, I will focus on further developing my knowledge and practice as a yoga instructor. It is with the awareness of inner peace and mindfulness of living each moment to its fullest that will bring true joy in life, which is at the core of yoga. I look forward to sharing our yoga journeys at Mindful Movements."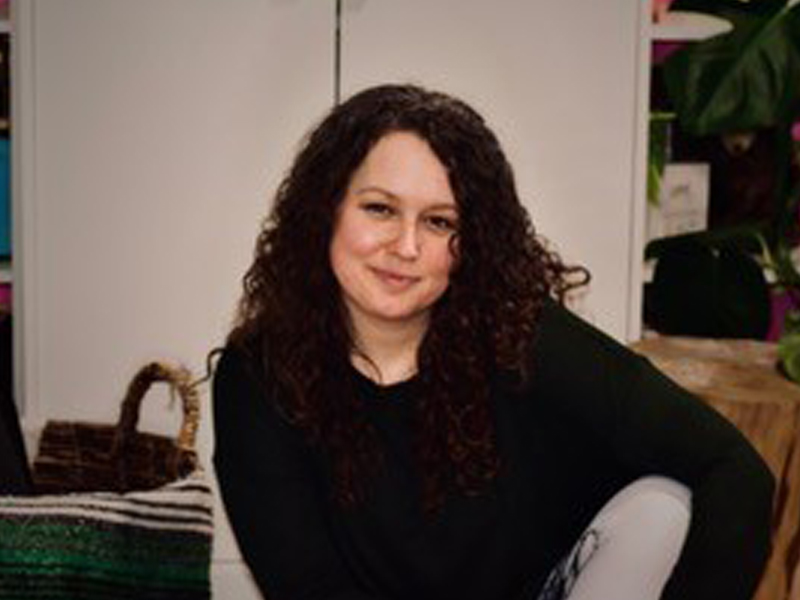 Meghan
Meghan is a recent graduate of the Mindful Movements 200-hour Yoga Teacher Training and holds a 96-hour certificate as a Registered Children's Yoga Teacher.
Meghan believes learning and practicing the eight limbs of yoga are beneficial and should be accessible to everyone, including kids!
more about Meghan...
Kids have all the emotions and many of the daily stressors adults do but often lack the skills to manage them. Meghan is hoping to change that by providing the knowledge and skills of yoga to kids in an interactive and fun way. Her classes balance games, music, and poses with discussions, breathe-work, and relaxation.
Meghan has worked with youth over the past 20 years through schools, camps, social programs, Scouts and Guides, and the local YMCA. Her experience working with Neuro-diverse youth and adults gives her the knowledge to provide inclusive classes for all children.
She is excited to be joining the Mindful Movements team and is looking forward to forming connections with its community members of all ages!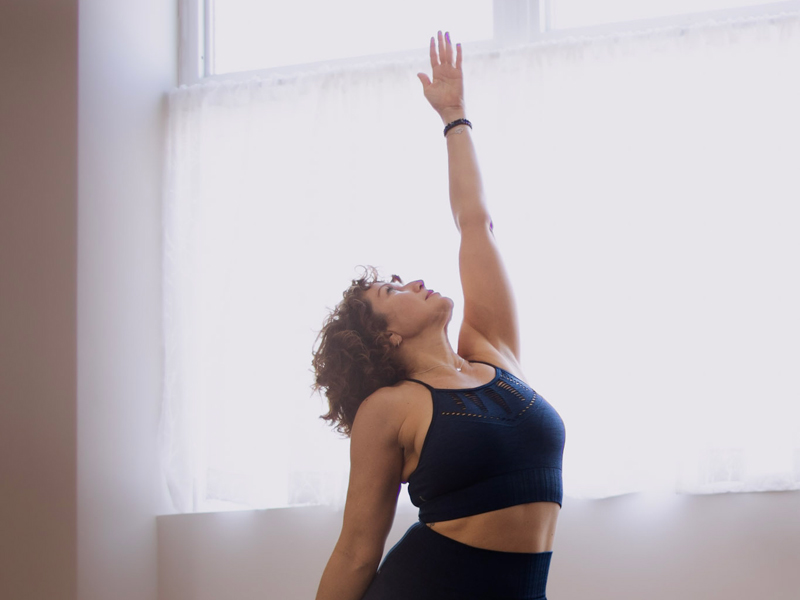 Orlena
Orlena, YYT 200, began practicing yoga in 2017 consistently by taking classes at Mindful Movements Studio.
It was during this time that she decided to take the YTT program at MM. As a teacher, Orlena is fun and engaging. She grounds students in an ongoing awareness of breath while guiding them through poses with great music.
more about Orlena...
Gently spiritual in her approach, she provides a physical workout that students of all levels can easily modify. More recently Orlena has become a SPIN instructor and brings big energy to her classes with music to keep you moving.
Orlena is also the local morning show host on Mix97 Radio in Belleville and enjoys being a part of the community in every way she can.
Prosper & Be Well,
Orlena Cain
Radio & Television Host
Narrator/Published Author
Registered Yoga Teacher
Certified SPIN Instructor

Our Teachers & Therapists
At Mindful Movements Studio we provide you with registered yoga teachers, certified personal trainers and skilled therapists who care deeply about the services they provide. They put so much of themselves into the variety of services they offer you. They do this because they care about what they do and they want to help you achieve your goals in a fun and productive way.
For a new and wonderful experience try Mindful Movements Studio today!
Don't Be Shy. Get In Touch.
If you are interested in our classes, group training, private or semi-private training send us an inquiry and we will get back to you as soon as we can!