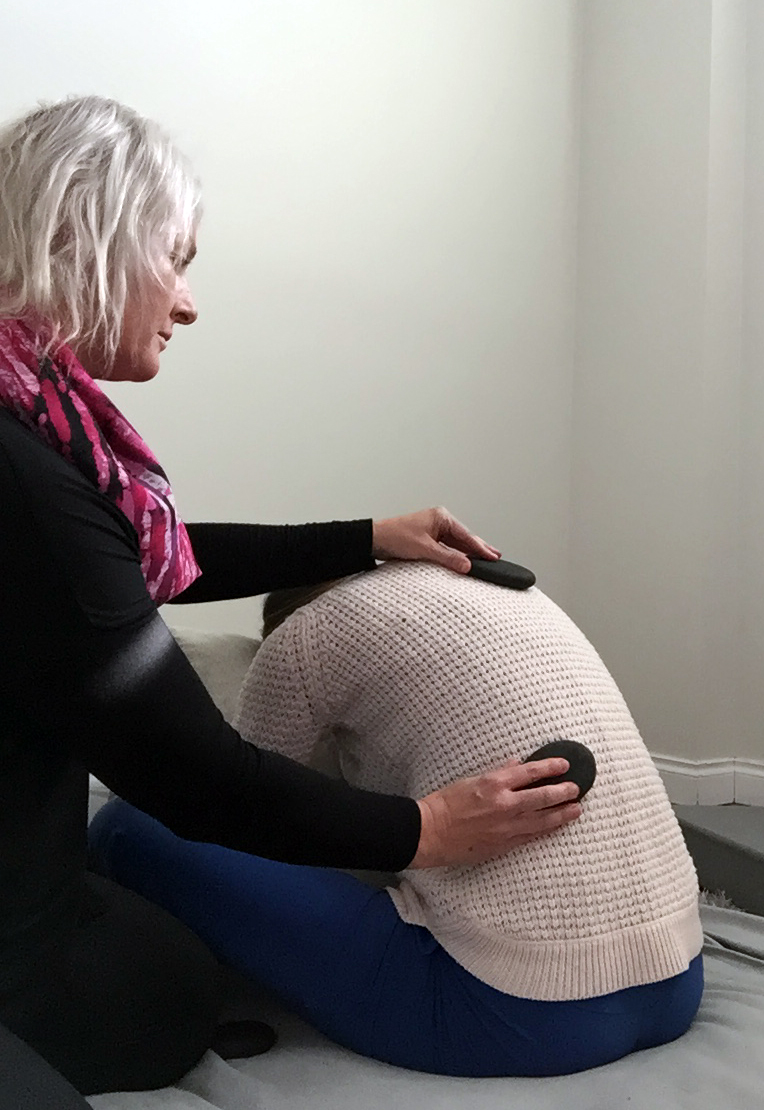 Hot Stone Restorative Yoga
Need to fully unwind and reduce stress? This workshop is perfect for you! Experience a deeper sense of relaxation with Restorative Yoga combined with the healing energy of HOT Stones! It's Dessert Yoga with the Cherry on top!
As you rest in poses while being totally supported with props and blankets you will experience a deep relaxation not easily found in our busy lives.
Let the healing energy from these amazing stones radiate through your body increasing circulation and deep muscle relaxation. Basalt Stones are formed as lava cools following a volcanic eruption. Each stone with its healing energy is hand picked and originates from the Andes Mountains in South America. This treatment will guide you to a state of deep relaxation bringing a sense of calm and joy to every fiber in your body. You will reduce overall stress and feel a sense of complete wellness and vitality.
(4 Students per Teacher ~ Please wear comfortable clothing.)
Date & Time: Friday, Nov., 22, 2019 • 10:30am • 75min
Cost: $40 + hst
Teachers: Robyn & Nicole
Register Now • Email: Kym@MindfulMovements.ca
Give the Gift of Wellness for the Holidays!
Join us for a Fun, Creative Make & Take Workshop using doTERRA Essential Oils!
Participants will take home DIY recipes and 2 products made during the workshop.
EASY DIY Recipes include:
• Body and Facial Scrubs • Body Moisturizer • Bath Soak Salts • Room/Pillow/Linen Spray • Beard Oil • Foaming Hand Soap
Learn how to use doTERRA essential oils to support your family's health priorities.
The benefits include:
• Increased Focus, Memory, Concentration • Mood Improvements • Better Sleep • Immune System Support
• Reduced Anxiety, Stress • Digestive System Support • Reduced Synthetic Exposure • Non-Toxic Ingredients
Dates & Times: 2 Workshops Available
Saturday, Nov., 23, 2019 • 1pm – 2:30pm
Sunday, Nov., 24, 2019 • 10am – 11:30am
Cost: Passholders: $15 + hst, Non Passholders: $25 + hst
Teacher: Allison Pilling
Register Now • Email: Kym@MindfulMovements.ca
Soaring Yogi ~ Restorative Swing
A deeply relaxing, restorative yoga class supported by a yogi "hammock" or "suspension" style swing.
A must try for all levels! (Limited Spaces Available)
Date & Time: Tuesday, Nov. 26, 2019 • 7pm • 60min
Cost: $30 + hst
Teacher: Robyn
Register Now • Email: Kym@MindfulMovements.ca
Mindful CURVY Yoga
FALL SESSION: Sept. 4, – Nov., 6, 2019 (10 weeks)
Wednesdays 6 – 7pm Drop Ins Welcome Teacher: Lisa
Have you ever wanted to deepen your practice or learn yoga in a supportive space with people whose bodies are like yours? These classes will be directed towards body affirmation, for students of all shapes and sizes. Mindful CURVY Yoga is an inclusive body positive series, designed to create safe and non judgmental classes. We will utilize props and pose instructions to ensure students have fun, while connecting with their individual level of fitness and flexibility.

Drop Ins Welcome: $20 + hst per class
Fall Session:  $175 + hst for the series (Prepaid)
Register Now • Email: Kym@MindfulMovements.ca
NEW – Mindful Movements Yoga School
200 HOUR – YOGA ALLIANCE REGISTERED YOGA TEACHER TRAINING
Start Date: September 2020 (Space is limited)
Teacher: Kym Riley, E_RYT
Yoga Teacher Training is for you if you love yoga and want to …
Take a journey of self-discovery
Deepen your practice and understanding of yoga
Become involved in the yoga teaching community
Register Now • Email: Kym@MindfulMovements.ca
Trauma Aware Yoga
Schedule a private consultation with the Trauma Aware Yoga Instructor at Mindful Movements Studio by phoning 613-968-1166 or email: lisakwarriner@gmail.com FREE 30 minute consultation